AWS Certification Courses
Certification-focused training
Becoming AWS-certified is the best way for IT pros to gain and develop the knowledge and skills they need to manage a cloud infrastructure. There are four AWS certification levels:
Foundational
Associate
Professional, and
Specialty
Despite there being no prerequisites for AWS certifications, cloud professionals working through the AWS certification roadmap typically start with an associate-level certification in one of three certification tracks:
Architect
Developer, or
Operations.
Given the market share of AWS and the demand for certified cloud practitioners, AWS certifications prepare cloud professionals for increasing levels of responsibility.
AWS Foundational Certifications are designed for non-technical professionals, the AWS Foundational Certification validates the most basic AWS and cloud infrastructure knowledge. It's common to use this training during a cloud adoption to familiarize both non-technical and IT professionals about the benefits and inner workings of the AWS Cloud.
The AWS Associate Certifications are the entry point for many IT professionals into the AWS certification program and a career in cloud infrastructure. These certifications are highly sought after by employers using AWS because they validate best practices in architecture, services, and development.
AWS Specialty certifications are standalone, but are more narrow and focused in scope. As such, professionals who attempt to earn a Specialty certification will likely have earned other AWS certifications. The AWS specialty certifications enable cloud professionals to validate their skills in specific technical areas. Though there are no formal prerequisites for AWS Professional or Specialty exams, cloud professionals should have considerable experience before heading into these notoriously hands-on exams.
More on our blog
A Complete AWS Certification Guide

AWS offers a robust certification program that consists of four levels: Foundational, Associate, Professional, and Specialty.

AWS Certified Sys Ops Administrator

Learn more about our newest AWS course. 

Roadmap to Success: AWS SysOps Admin

With the emerging dominance of the cloud in all forms of business, the need for IT professionals with the skills and expertise to deploy, manage, and operate AWS has skyrocketed. The AWS SysOps Admin Associate certification will launch your career into the cloud!
Roadmap to Success: AWS Certified Solutions Architect Associate

The AWS CSA – Associate aims to validate a learner's skills and knowledge in order to deploy a highly-available, cost-effective, and auto-scaling AWS solution. We explore the certification and what it takes to be successful in earning the AWS CSA – Associate.
More on our YouTube channel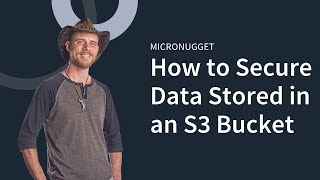 MicroNugget: What is S3 Confidentiality?
In this video, Bart Castle covers how you can manage data confidentiality when using AWS' S3. He shows you how you can address this through robust logging practices as well as through access management and encryption. He also covers how you can use the S3 API to accomplish many of these things.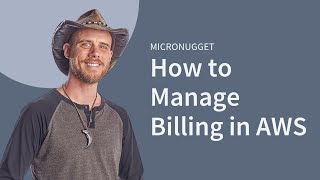 MicroNugget: How to Enable Billing Management in AWS
In this video, Bart Castle covers enabling billing management in AWS. By default, the settings for billing administration aren't configured to allow other users access. Unless you're the sole user of a single AWS account, you'll need to know how to enable access to other users.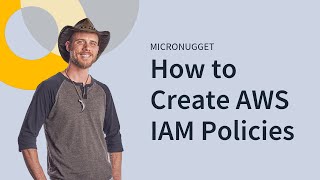 MicroNugget: How to Create AWS IAM Policies
In this video, Bart Castle covers creating identity and access management policies in AWS. AWS offers several different approaches to managing who gets to use your resources and what they can do to them. Watch a firsthand demo of five of them.
AWS Skill Courses
Job-focused training
Amazon has been increasing capability with AWS constantly since its debut in 2006. Certification is valuable for establishing and proving a base level of skills, but if you want to get the most for your business, you have to be learning at the same pace that Amazon is innovating. The skills-based courses offered here will keep you and your team current with all the latest features and capabilities of Amazon AWS.
More on our blog
AWS for the Real World

Jeremy Cioara's recent webinar dives into the world of Amazon Web Services. 

AWS Scalability: An In-depth Look

Scalability is often touted as one of the main benefits of cloud computing, and for good reason. It enables organizations to use and pay only for what they need. Amazon Web Service Elastic Compute Cloud is no exception. Discover the power of AWS and how companies like yours can leverage it!

AWS Security: What You Need to Know

Amazon Web Services is awesome and is capable of mind-blowing things. But, don't take AWS for granted, especially when it comes to security. While AWS offers a vast array of security features, it's also up to users to make sure they take their own security precautions. After all, in this day in age of breaches, you can never be safe enough. So, are you ready to learn what you need to know about security when it comes to AWS?
AWS Isn't Going to Steal Your Job

Be prepared! Public cloud options are probably going to take off, and there will be a change in job roles and career opportunities. But if you properly prepare for it, then AWS will not steal your job; it will just offer you a new, improved one!

AWS vs Azure vs Google: Cloud Wars 2019

There's still a battle among the top three cloud providers. Amazon remains the leader with Microsoft is on its heels. Google might be lagging behind, but it's not out of the race. It's no longer the question of whether to leverage cloud technology. It's now a question of which one.

7 AWS Access Management Basics: A Refresher

As we all know, keeping your data in the cloud secure is super important. While AWS locks its infrastructure, ultimately your organization is responsible for securing its operating systems, platforms, and data in the cloud. Here's a refresher on how you do that.

Is AWS King of the Cloud Jungle?

Cloud services aren't just for large enterprises anymore. After going through all the choices, many site owners settle on using Amazon Web Services, and for good reason — AWS has several advantages that make it the king of the cloud jungle.

5 Awesome AWS Storage Types

When it comes to the cloud and storage, you can't go wrong with Amazon Web Services. It offers a plethora of storage services and options that can benefit just about any organization. Here's a look at five of the best AWS storage services.

What is AWS?

Many businesses are delving into the world of AWS, but what exactly is Amazon Web Services? Get a rundown of the tools and technologies that make up Amazon Web Services (AWS), and see how it can help you thrive in the workplace.

Exploring AWS: Death of the Normal IT Guy?

The first post in trainer Jeremy Cioara's new blog series that will explore Amazon Web Services.

Exploring AWS: AWS vs. Azure

Is AWS really light years ahead of other cloud competitors? Find out what Jeremy Cioara thinks.

Exploring AWS: Solving Real Problems

Jeremy Cioara points out that if you stop and think about it, cloud-based services make day-to-day tasks we take for granted easier.

Why Using AWS is Better than Doing It Yourself

We've all heard the arguments for using cloud applications. They typically boil down to the structural limitations of what you can do alone — size, speed, and skills. Here are a few non-technological reasons a service-based mindset is better for your customers and team.

8 Benefits of AWS

As companies continue moving to the cloud, it can be seen few options meet as broad a range of business needs as Amazon Web Services (AWS). We rounded up eight of the awesome benefits that you can take advantage of when you use AWS.

7 Most Important AWS Security Tools

AWS takes layered security very seriously and gives administrators tools to ensure their AWS deployments are as secure as possible. Here are some of our favorites.
More on our YouTube channel
AWS
Amazon Web Services (AWS) have taken the world by storm since it's official launch in 2006. It started with an innovative use of spare, aging, but capable computing resources. Amazon found a way to virtualize and abstract the hardware that would ultimately be used to drive the software for a business IT resource. By eliminating the need for specific hardware, the entire IT infrastructure has been revolutionized. IT teams no longer have to build servers, worry about redundancy of hardware, or worry about scaling hardware either up or down based on need. What used to take days or weeks to plan, buy, install, and configure, can now be done in seconds. Want a new server? Click, click, click, select the size of processor, RAM, etc. and you have a server. That's where it started.
Now, years after that innovative start, with services and capabilities being added at a breakneck pace, there is very little that can't be virtualized in the AWS cloud. The increase in capability when moving from physical, on premises hardware to an AWS virtualized infrastructure is mind boggling. With virtual private networks and circuits, intrusion protection, virtualized firewalls, and many other protection services, there is little to no security risk with an AWS virtualized IT infrastructure, certainly less risk that a physical on premises IT infrastructure.
The second huge innovation that AWS brought was the ability to pay for your services by the hour, based on resources used. This guarantees that your IT infrastructure will always be utilizing the hardware you "purchase" at a rate of 100%. It used to be that IT would buy more hardware than needed to build in capacity for growth and to account for the time, risk, and expense of adding hardware to an existing system. Typical cost savings from moving from on premises IT infrastructure to AWS virtualized infrastructure can be as high as 90%.
You can start taking advantage of these innovations with our comprehensive training courses.