Microsoft 365 Certification Courses
Certification-focused training
Entry-Level Microsoft 365 Training
Microsoft 365 training at this level covers learning how to use Microsoft software including Word, Excel, and Outlook. Microsoft Word for 365 courses cover topics like page formatting, using templates, and recording macros. Microsoft Excel training for beginners typically includes creating calculations, forecasting, and pivot tables. Office professionals should expect to learn to organize mail, use calendars, and manage contacts from entry-level Microsoft Outlook for Office 365 courses.
More on our blog
Microsoft 365 Skill Courses
Job-focused training
All CBT Nuggets Microsoft 365 training includes embedded quiz questions to help learners retain information more effectively. Select Office 365 training courses include downloadable supplemental files that provide further Office 365 training.
More on our YouTube channel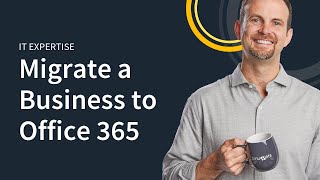 IT Expertise: Office 365 On-Site Domain Structure, ADMT, and Federations
In this video, Jeremy Cioara covers practical guidance you need to know when migrating your company to the cloud. He'll discuss authentication, how to take advantage of the Active Directory Migration Tool (ADMT), and Federation services that can be used in an Office 365 environment during the migration.
Microsoft 365
Office 365 is a cloud-based subscription service offered by Microsoft that includes access to a wide variety of Microsoft software and services, including Word, Outlook, PowerPoint, OneNote, and Skype for Business. End users from the C-Suite to office staff can benefit from Office 356 training to improve office productivity and collaboration.