VMware Certification Courses
Certification-focused training
Entry-Level VMware Training
IT professionals should expect to cover VMware virtual desktop infrastructure (VDI) products like VMware Horizon at this level. VMware training typically covers choosing the right edition for your needs, server installation, and scalability.
Professional VMware Training
VMware training courses at this level typically include VMware vSphere topics including installing the ESXi hypervisor, adding hosts to vCenter, and deploying virtual machines (VMs). VMware admins should expect to learn how to create vSwitches, work with datastores, and troubleshoot VM issues at this level. Professional-level VMware training also covers more advanced VMware VDI topics like deploying and optimizing clients for Horizon.
More on our blog
Is SDDC a Worthwhile Venture for VMware?

Even with growing competition in the virtualization market, VMware holds a unique position as an innovator and is among the first to use specific software-defined data center technologies. With a growing need for efficiency, speed, and security, VMware is constantly advancing its SDDC to maintain it's status as a forerunner and its hold on the SDN market.
More on our YouTube channel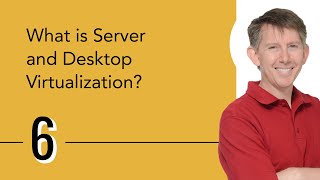 What is Server and Desktop Virtualization?
At first, virtualization can be a tough concept to understand. But a picture is worth a thousand words, right? CBT Nuggets trainer Jacob Moran uses diagrams to help explain several key virtualization technologies and devices.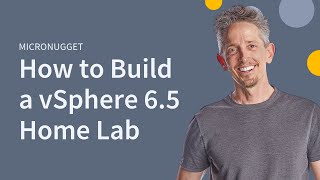 How to Build a vSphere 6.5 Home Lab | CBT Nuggets
In this recorded live webinar tutorial, CBT Nuggets trainer Keith Barker covers how to build a vSphere 6.5 home lab. Get your hands dirty with the latest product from a virtualization industry leader. Learn vSphere 6.5 insights, features and tips to help you train for success.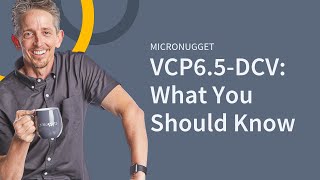 VMware vSphere 6.5 (VCP6.5-DCV)
In this video, Keith Barker covers his vSphere video series. This is the introductory video to Keith's full series on how to use vSphere. Virtualization is a skill that's rapidly becoming more and more valuable in the IT world -- get introduced to it with this video.
VMware Skill Courses
Job-focused training
CBT Nuggets VMware training includes embedded video quizzes to help learners engage in the content they are watching and retain the information they need to successfully use VMware technologies. CBT Nuggets subscriptions include access to unlimited IT certification practice exams, which include exams for popular VMware certification exams.
More on our blog
How to Maintain Certs on Your VMware Resume

VMware earlier this year made several big changes to its certification program. Here's what you need to know about maintaining them on your resume.

Where to Find the Best (Free) VMware Labs

To really hone your virtualization skills, you'll want to lab it up. The good news is that VMware offers free labs. Here's how to find and use them.

This week: VMworld 2019 US

VMware's still king of the virtualization jungle, making VMware certification as smart a play as ever. We put together resources to help you get certified.

5 Reasons to Learn VMware

Discover why Keith Barker thinks you should learn virtualization skills.

Webinar Announcement: Leveraging VMware Horizon

Need to deploy Virtual Desktops for your users? Learn how in Keith's "Leveraging VMware Horizon" webinar!

Leveraging VMware Horizon

Watch Keith's latest webinar on VMware Horizon 6 today!

Top Trends In Depth: VMware

We think VMware knowledge will be an in-demand skill in 2015. We've gathered resources to help you get virtualized. 

Roadmap to Success: VMware vSphere 5.5 VCP5-DCV

Virtualization is a critical approach to the work of IT professionals. The VCP5-DCV certification affirms your knowledge and skills to successfully install, deploy, scale, and manage VMware vSphere environments. We explore the details of the certification, exam, as well as next steps in your certification and career paths.

Roadmap to Success: VMware vSphere 6 VCP6-DCV

Virtualization is vital to IT professionals. The VMware vSphere 6 VCP6-DCV certification is one of our most popular virtualization courses among CBT Nuggets learners. Learn more about the certification and exam that affirm your skills and knowledge to successfully install, deploy, scale, and manage VMware vSphere 6 environments.

VMware and the Future of the Data Center

VMWare has coming developments that are going to position them for the future to both remain an on-premises standard and wholly leverage all the advantages promised by the cloud. We go into the future of VMWare, and why you want to be on board for this wild ride.

How to Study for VMware vSphere 6 VCP-DCV in 9 Weeks

Virtualization continues to gain traction and popularity. So there's never been a better time to ramp up your virtualization skills. We've put together a great study plan to help you earn VMware's intermediate-level VCP6-DCV certification. Get ready to conquer.

VMware Announces Exam Price Increases

VMware announced new pricing for their certification exams. We review the changes and what it means for learners pursuing VMware certs, including the VCA, VCP, VCAP, and VCDX. Will any of their scheduled price changes affect your certification-taking plans?

VMware and AWS: A Match Made in the Cloud

After attempting to take on cloud computing themselves, and not being as successful as planned, VMware turned to AWS. Let's break down what this perfect match is all about.

Is SDDC a Worthwhile Venture for VMware?

Even with growing competition in the virtualization market, VMware holds a unique position as an innovator and is among the first to use specific software-defined data center technologies. With a growing need for efficiency, speed, and security, VMware is constantly advancing its SDDC to maintain it's status as a forerunner and its hold on the SDN market.

Constructing Your VMware Home Lab

Ah, the world of virtualization. It's a fun place to dabble, but be sure you're not dabbling in your live production environment! This is your chance to get some tips for putting together a VMware home lab that will help you develop the skills you need to move your IT career forward.

Roadmap to Success: VMware vSphere 6.5 (VCP6.5-DCV)

CBT Nuggets offers guidance to learners pursuing VMware's new vSphere 6.5 (VCP6.5-DCV) certification, including next certification steps, career considerations, and more. This certification validates the skills and knowledge needed to implement, manage, and troubleshoot a vSphere 6.5 infrastructure.

This Week: VMware vSphere 6.5

When it comes to virtualization, there's VMware and then there's, well, everyone else. Yes, VMware still owns the virtualization space. And this week, we spent time diving into their latest release, vSphere 6.5, as well as other awesome topics geared toward virtualization!

VMware on Azure: A Cloud Odd Couple

When Microsoft recently announced new services to help run your VMware infrastructure on Azure it was par for the course, an answer to AWS's similar service.  But a VMware and Microsoft collaboration?  That's like Ford and Chevy building a truck together. So, what's Microsoft's real game here?

Why VMware Cloud on AWS Will Pay Off for VMware

It's not often you see two rivals willing to work together, especially in the competitive cloud space. However, that's exactly what VMware and Amazon are doing. Here's why the platform can be a big win for VMware.

This Week: Looking at VMware's Latest Power Moves

Earlier this year, VMware released the latest version of its vSphere hypervisor. We decided to look at vSphere 6.7 and other virtualization trends this week on the CBT Nuggets blog.

How Citrix Has Gained on VMware

VMware has long held their ground as head honcho when it comes to virtualization products. But Citrix is stepping up — and even reigns supreme in some virtualization specs.

Why VMware Will Remain a Virtualization Titan

If you know anything about virtualization, you know VMware. It holds the highest market share in the industry, and for good reason. Even with growing competition, we don't think they'll lose their hold soon. Here's why.

A Complete VMware Certification Guide

Find out everything you need to know about VMware certifications. Discover course requirements, salary information, exam costs and much more!

This Week: Must-Knows about VMware Certification

VMware certification is as safe a bet as any. To prepare you for that journey, we compiled some important VMware certification information need to know.

Why VMware Certs No Longer Expire

Earlier this year, VMware announced that VCP certifications no longer expire. Here's a look at what the change entails and how it could affect you.

How to Work Around VMware Classroom Requirements

Many VMware certifications have a classroom requirement, but don't dismiss those certs out of hand. There are ways you can fulfill these requirements without the class.

How vSphere 6.5 Works with AWS

Last year was exciting for VMware, as it partnered with Amazon Web Services to provide more efficient hybrid cloud environments. Soon following was the release of vSphere 6.5. We break down how vSphere and AWS work together and what it could mean for IT pros like you.

10 IT Buzzwords from 2019

So much jargon is thrown around in IT circles. At times, it's hard to tell what is legit and what's fluff. We put some substance behind 2019's top buzzwords.

Container vs. Hypervisor: What's the Difference?

Yes, they are different. They also can work really well together. That's why it's important to understand the benefits of virtual machines and containers.

5 Certifications to Get You Off the Help Desk

You want to do something more challenging than the help desk, but landing that new role can be difficult. When all your experience is helpdesk related, standing out from other applicants is hard.

6 Virtualization Certs for Every Netadmin

Virtualization isn't going away anytime soon. So, you probably should get certified to ensure you stay on top of things. Here's our top virtualization cert recommendations.

Intro to Virtualization

This is free, open training from CBT Nuggets. Resources are increasingly moving away from "bare metal" and into the cloud. Learn what virtualization means, how it changed IT, and how to enter this field.

Why You Shouldn't Upgrade to vSphere 6.7 Just Yet

VMware announced the latest version of vSphere in April. At first, it might be tempting to rush and upgrade to 6.7. But you might be better putting it off. Here's why.

Is Virtualization's Future Bright?

Virtualization has forever changed how IT professionals and teams work. Its compatibility with emerging tech, such as the cloud, further cements virtualization as a powerhouse. So, what's next? We ponder the future of virtualization and its role in IT.

How to Build a vSphere 6.5 Home Lab

We recently released Keith Barker's vSphere 6.5 course and invited him to share how you can get hands-on with the latest version of VMware's signature tech by building your very own vSphere 6.5 home lab.

What's New? vSphere 6.0 vs. 6.5

vSphere 6.5 is here and CBT Nuggets trainer Keith Barker just released his VMware vSphere 6.5 (VCP6.5-DCV) course. So it's the perfect time to get up-to-date on the latest version of vSphere and how it's different from its predecessor.

This Week: Tackling Virtualization Head-on

Vendors, organizations, and IT pros are stepping up when it comes to virtualization. This week on the blog, we take a look at why Citrix is catching up to VMware's dominance in the space, why VMware just won't have that, and why you might not want to virtualize every piece of your environment.

6 Things You Shouldn't Virtualize

Virtualization definitely has its benefits: Cost savings, minimized use of resources, and improved administration. Just to name a few. Though you may want to haphazardly apply virtualization to your entire infrastructure, there are instances where virtualization isn't the best solution.

This Week: Getting into the Virtualization Game

This week, we placed ourselves right in the middle of the booming virtualization realm. We went over the certifications, security measures, partnerships, and steps you should be taking to be in the know about to be virtually successful in this field.

The Most Valuable Certifications for a Virtualization Career

Whether you like it or not, the wave of the future is closer than before. We discuss how you can use virtualization in your IT career, and how you can certify in this tech to be even more successful for the awesome work you do.

Your Survival Guide to a Virtualization Failure

The IT industry's switch to virtualized networks has benefited many organizations, saving time, money, and headaches. But, what if something goes wrong? We go over the pain points that your organization could run into in a virtualized environment, and what you can do to make the transition as smooth as possible.

4 Easy Steps to Become a Virtualization Pro

The virtualization industry is growing more rapidly than ever. There are plenty of new ideas and concepts for you to wrap your head around, but we found a track for success. Read our four easy steps that you can take to build your skills and transform into a virtualization pro.
More on our YouTube channel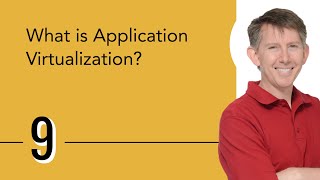 What is Application Virtualization?
Finding the balance between deploying systems quickly and safely on networks can be challenging. CBT Nuggets trainer Jacob Moran looks at one possible solution: Virtualizing networks themselves.
VMware
VMware is a leading provider of virtualization software and services — and is renowned for its hypervisor technology. Because of VMware's long-standing reputation, VMware training is a smart investment for a wide range of IT professionals from systems administrators to mobility administrators.