Microsoft Windows Server Certification Courses
Certification-focused training
Entry-Level Windows Server Training
Windows Server training videos at this level typically cover topics like installing and upgrading Windows Server, configuring Windows Server, and remotely administering Windows Server. IT professionals should expect to learn installation options and requirements and licensing and activation from entry-level Windows Server training videos.
Professional Windows Server Training
Windows Server courses for administrators and engineers typically cover topics like Windows Server networking features, managing identities in Windows Server, installing Windows Server in host and compute environments, and using the Windows Admin Center to manage and monitor servers. Professional-Windows Server training videos are especially beneficial for IT pros who work in enterprise environments that use Windows Servers.
More on our blog
What Can Linux Do that Windows Can't?

With the recent partnership between Microsoft and Linux, this list has shortened a bit. But there still a few things that make more sense in Linux. Here's our list of things that Linux does, not so much better than Microsoft, but in a different way.
More on our YouTube channel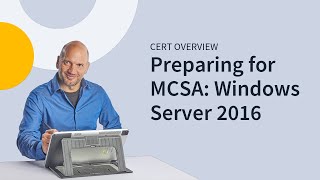 Installation, Storage, and Compute with Windows Server 2016 (Exam 70-740)
In this video, Garth Schulte covers what to expect to pass the Windows Server 2016 (70-740) exam, which is one of the exams you'll need to pass earn the MCSA certification. This includes installing Windows servers as well as implementing storage solutions, Hyper-V, Windows containers and high availability.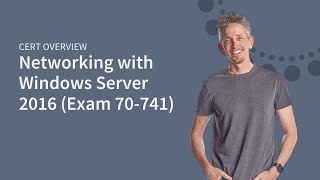 Networking with Windows Server 2016 (Exam 70-741)
In this video, Keith Barker covers an introduction to networking with Windows Server 2016. The concepts discussed here are a core part of the 70-741 exam. Keith gives a brief overview of the material and then gives several tips to study effectively for this certification.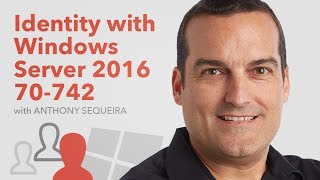 Identity with Windows Server 2016 (Exam 70-742)
In this video, Anthony Sequeira covers the introductory video to his video series on preparing for the 70-742 exam for Microsoft's Identity with Windows Server 2016 certification. If you're considering the certification, or just need familiarity with identity management in Server 2016, prepare with Anthony.
Microsoft Windows Server Skill Courses
Job-focused training
CBT Nuggets Windows Server videos contain embedded quizzes to help learners retain information more effectively. Select Windows Server courses feature virtual labs, which enable learners to gain hands-on practice with Windows Server technology, without having to invest in equipment or use a live Windows Server environment. CBT Nuggets subscriptions include unlimited access to IT certification exams, including for Windows Server certification exams.
More on our blog
5 Ways Windows Server Has Evolved

Windows Server 2016 is Microsoft's latest, greatest version of one of its hallmark products. Each version gets better and better. So, we thought it would be fun to take a look at how Windows Server has evolved from its first iteration in 2003 to present day — and how it's changed the role of sysadmins!

Microsoft Windows Server 2016: A Frankenstein of Services

It's alive! It's ALIVE!! Microsoft Windows Server 2016 stormed the market in October 2016, and by now many SysAdmins realize the pros and cons of the product. Server 2016 came to life cobbling together everything from virtualization hypervisor to a cloud application container, and a high-performance storage platform to a hardened security platform, making it the beast that it is today.

Microsoft Windows Server 2016 Beast Mode: Control and Customization with Linux

Microsoft Windows Server 2016 has a newfound affection for open source, and particularly, Linux. Combining admin tools with new cutting-edge features, this operating system is truly a beast for admins. We dig into the details of how Server 2016 is aligning with the Linux and open source ecosystem — and what it all means for your career and training.
How Microsoft Windows Server 2016 is a Virtualization Behemoth

Watch out, VMware. There's a new virtualization behemoth rampaging through the IT space. Microsoft Windows Server 2016 may be a little late to the party, but it now challenges — or maybe even exceeds — the capabilities of some of its chief virtualization rivals. We explore some of the niftiest features of Microsoft Windows Server 2016 as it tackles virtualization.

The Future of Microsoft Windows Server 2016: From File Server, to Datacenter, to Cloud

The journey to Microsoft Windows Server 2016 has been long and winding. From file server, to datacenter, to the cloud, the story of how we arrived to the giant that is Server 2016 is fascinating. We take a quick look back at it and ponder Server's future.

3 Reasons to Love Microsoft Windows Server 2016 Nano Server

Since Microsoft launched Windows Server 2016 last year, Nano Server has captured the imagination (and maybe even the undying love) of many a SysAdmin. From its smaller installation footprint to fewer updates and reboots, we explore three reasons to love Microsoft's Nano Server.

This Week: Exploring Microsoft Windows Server 2016

To celebrate the release of Garth Schulte's Windows Server 2016 (Exam 70-740) course, we spent this week covering how Windows Server has evolved, how to build a career around Server 2016, and put together an infographic to help sysadmins lay out a career path for success.

This Week: Reasons to Love Microsoft Windows Server 2016

This week, we explored all the reasons SysAdmins should love Microsoft Windows Server 2016, including its growth into a virtualization beast, its embrace of Linux and open source, the infatuation-inducing details of Nano Server, and even some certification considerations for your continuing education.

4 Tips for Building a Career on Microsoft Windows Server 2016

There are a lot of different directions you can take your career with Windows Server 2016. And while it's always good to have options, sometimes sorting them out can be daunting. So, here are four ways you can start working toward that Server-based career you want.
More on our YouTube channel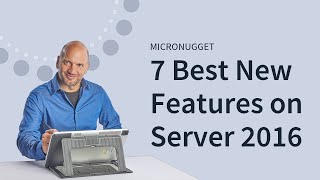 Windows Server 2016 Basics & Features | CBT Nuggets
In this video, Garth Schulte covers all the new features that Windows Server 2016 boasted compared to its predecessor, as well as to its competition. Learn about the much-anticipated features while also preparing to use the hands-on labs that are available to CBT Nuggets students.
Microsoft Windows Server
During their move to role-based exams in 2019, Microsoft left the MCSA: Server 2012 and 2016 exams untouched and rolled advanced Server 2016 topics into MCSE: Core Infrastructure. Even in Microsoft's restructuring around Azure, Windows Server is still running on millions of machines. Server 2016 and Server 2019 products are popular, but Server 2012 is still running strong. Considering Server 2003 and even 2000 are still widely used, it's a good chance you'll run into many Server versions at some point in your career.
From the latest Server version to the legacy versions, Windows Server training is a must for IT professionals who work in enterprise environments. The knowledge and skills that Windows Server training courses provide are needed to perform job roles like systems administrator, network administrator, systems engineer, and network engineer.